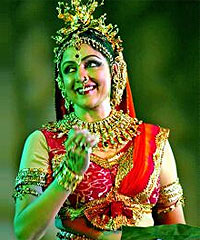 Hema Malini
was born in a Brahmin Iyengar family on 16th October
, 1948 in Ammankudi located in the District of Trichy, Tamil Nadu. Her father name was
V. S. Ramanujam Chakravarti and her mother name was Mrs. Jaya Chakravarti who was a film producer. Hema's Mother Mrs. Jaya Chakravarti was passed away on 11th June 2004. She was proposed for marriage by two actors name Jeetendra and Sanjeev kumar

but it was Dharmendra with whom she formed a hugely successful on-screen couple, that won her hand in the end. Hemaji defied the conventional norm at the time by becoming his second wife and continuing to work after having children and called as

"Women of India" in 1996. She is the Mother of Esha Deol and Ahana Deol and unfortunately Step -mother of Sunny Deol and Bobby Deol.
".
Hemaji

has completed her education from Andhra Mahila Sabha, Chennai. Hema Malini is a dedicated

Bharatanatyam

artiste a South Indian classical dance. Her two daughters have trained in the artiste Odissi school of dance and the all three have also performed together at several charity dance concerts.
Hema Malini
had married with the Legendary Actor Mr. Dharmendra and they have two children named as
Ahana
Deol and

Esha Deol born in the year1982 which are also a
successful

Bollywood actress . She and her husband have been involved in politics, as supporters of the

Bharatiya

Janta Party

(BJP). She was also elected to the Rajya Sabha, the upper house of the

Parliament of
I
ndia
, with the support of the BJP.
Hemaji is a Chairperson of the National Film Development Corporation (NFDC) from 2000-03. She had set up a Natya Vihar Kalakendra, name institution which was dedicated to create, spread and present the age old Indian mythological themes from the epics like Ramayana, Mahabharata and other ancient scriptures through the medium of dance. She is the second South Indian actress after the most successful Actress Vyayantimala to become a major Hindi film star.
She is Bollywood Actress and also a
Bharatanatyam
Dancer who starred in several successful Bollywood films.
Ironically, Hema's career almost ended before it began in the year1964. Her first director Sridhar threw her out of his Tamil film, which he was directing, saying that she had no star appeal. Hema resolved and persistely found her nice in Bollywood where she has make it the biggest. In the year 1968, she enters into the Indian Cinema and started her film career with playing a young teen opposite the Ageing Superstar "Raj Kapoor" in the film "SAPNON KA SAUDAGAR" (The Dream Seller).
After this film Hema was allotted the title of "Dream Girl".
In the year 1970, she was most notably in the extreme successful flim "SHOLAY".
She had a glorious reign on the position of a leading actress during the year of 1970's. In the year 1972 she had won an Award by the Filmfare for Best Actress for the film "SEETA AUR GEETA". But in the early year of 1980's, she decided to concentrate on 'character' roles and not on those roles, which are feminist undertones.
Her career took off, and she became one of the reigning divas of the Bollywood film industry. Her fans called her "The Dream Girl of
Boyllwood" through an allusion from her first
film. She
starred in many movies and her
appearance
was perhaps best to be remembered for her good Qualities such as glamour, style, and accomplished classical dancing etc.
Hemaji had formed a hit pair with Dharmendra and they both gave a number of hit movies. She also achieved some strong dramatic and comic moments in films like "LAL PATTHAR", "SEETA AUR GEETA", "SHOLAY", "MEERA" and "SATTE – PE – SATTA". She tried her hand in the occupation of directing and came out with the films in the year 1992 named as "DIL AASHNA HAI" which featured an all-star cast including King of bollywood Mr. Shahrukh khan and the late Divya Bharti. She also directed and starred in the TV Serial named "Noopur"in the year 1990, in which she was depicted as a Bharatanatyam dancer going to America. In the year 2000 she was awarded the by "PADMA SHRI". After having a back seat from films for a number of years, she had gave recently a come back from the successful film "BAGHBAN" in which she co-starred with
Amitabh

Bachhan and played a cameo role and again with

Amitabh

Bachhan in the year 2
0
04 blockbuster "VEER –
ZAARA
". In both films, she played a beautiful , self-possessed, middle-aged married woman rather than the
ingénue
role of her earlier career.FILMOGRAPHY:

Baabul, Bhagmati, Veer Zaara, Baghban , Censor , Hey Ram , Himalay Putra , Maahir, Aatank, Vivekananda, Hai Meri Jaan , Jamai Raja, Lekin... , Paap Ka Ant , Desh Ke Dushman ,Santosh , Deshwasi, Galiyon Ka Badshah , Sachche Ka Bol Bala ,Rihaee,Mohabbat Ke Dushman, Mulzim , Vijay , Kudrat Ka Kanoon , Jaan Hatheli Pe , Anjaam,Apne Apne , Sitapur Ki Geeta, Ek Chadar Maili Si, Babu , Hum Dono , Yudh , Ramkali , Aandhi Toofan, Durga , Phaansi Ke Baad , Ek Nai Paheli, Ek Naya Itihas , Qaidi, Raaj Tilak , Ram Tera Desh , Sharara , Nastik , Andha Kanoon , Razia Sultan , Taqdeer , Meharbaani , Rajput ,Suraag ,Satte Pe Satta ,Baghawat ,Desh Premee , Do Dishayen , Farz Aur Kanoon , Justice Chaudhury , Samraat , Teesri Aankh , Meri Aawaz Suno , Naseeb , Kranti , Aas Paas, Dard , Jyoti , Krodhi, Kudrat, Maan Gaye Ustad , Alibaba Aur 40 Chor, Bandish ,The Burning Train ,Do Aur Do Paanch ,Hum Tere Aashiq Hain ,Meera ,Dil Ka Heera , Janata Havaldar, Ratnadeep , Apna Khoon , Azaad , Dillagi , Trishul , Palkon Ki Chhaon Mein, Chacha Bhatija, Chala Murari Hero Banne , Dhoop Chhaon , Dream Girl, Kinara , Shirdi Ke Sai Baba, Jaaneman , Mehbooba , Dus Numbri , Aap Beeti , Charas , Maa , Naach Utha sansar, Sharafat Chod Di Maine , Sholay , Dharmatma , Do Thug , Kahte Hain Mujhko Raja , Khushboo, Pratigya, Sanyasi, Sunehra Sansar , Kasauti , Dost , Amir Garib , Dulhan , Haath Ki Safai , Patthar Aur Payal, Prem Nagar , Joshila , Gehri Chaal , Chhupa Rustam , Jugnu , Prem Parvat , Shareef Budmaash , Babul Ki Galiyaan , Bhai Ho To Aisa , Garam Masala , Gora Aur Kala , Raja Jani , Seeta Aur Geeta , Tere Mere Sapne, Andaz, Lal Patthar , Naya Zamana, Paraya Dhan , Johny Mera Naam, Aansoo Aur Muskan, Abhinetri , Sharafat , Tum Haseen Main Jawaan , Jahan Pyar Mile , Waris , Sapnon Ka Saudagar , Pandava Vanavasam